Auburn University Professor Aniruddha Belsare in the College of Forestry, Wildlife and Environment studies a wildlife disease with no vaccine and no treatment, but this does not deter his persistence in generating solutions for early detection to delay establishment of the disease.
His proactive approach is catching on.
Belsare created a computer model for wildlife agencies and other decision-makers to assist in early detection and proactive management of chronic wasting disease (CWD) in deer populations.
CWD is an emerging prion disease affecting deer and other cervids and is transmitted via excretions and secretions. The fatal disease has a protracted course in deer of 18-24 months, during which the animals secrete infectious prions into the environment. Some soils, as well as plants can be contaminated for up to two years.
CWD has spread in the wild since the 1980s in the U.S., and local deer numbers decline once the disease is established in the population. The verdict is still out as to whether CWD can infect humans.
BELSARE'S HISTORY WITH CWD RESEARCH
Belsare began studying CWD as a postdoctoral fellow at the University of Missouri. In 2012, the Missouri Department of Conservation discovered its first CWD case and sought the best strategy to promptly detect cases in its deer populations.
The agency asked Belsare to develop a modeling framework for the state.
"I had the idea that we should not limit the scope of modeling to just one state when we can instead make a framework which other agencies would be able to use," said Belsare.
Belsare went on to develop a customizable and portable modeling framework, OvCWD,  that any state or county could use to understand CWD threats and predict how the disease would spread in regional populations.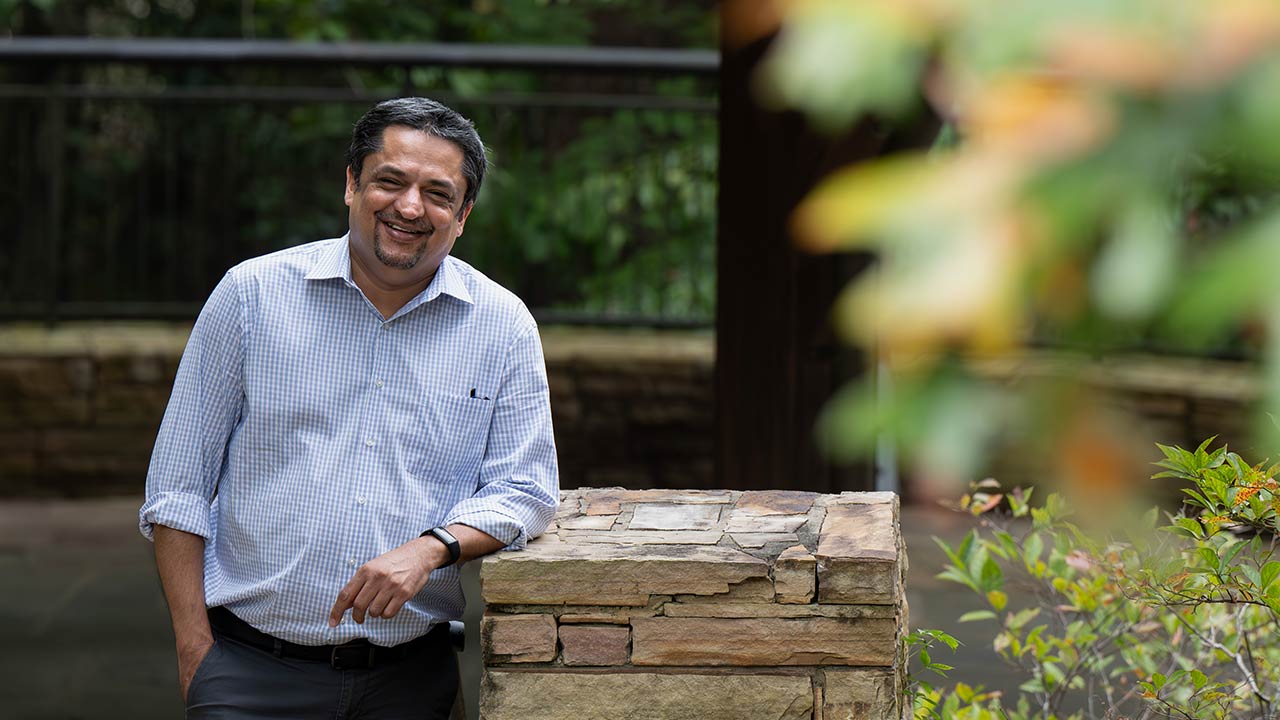 Ani Belsare is pictured outside of the College of Forestry, Wildlife and Environment at Auburn University.
HOW DOES COMPUTER MODELING WORK?
Agent-based modeling is a relatively new approach that can be used for other disease systems, not just CWD, but how does it work?
Belsare developed OvCWD, a mechanistic simulation model that generates a realistic artificial computer population of a host species like white-tailed deer. Agent-based models are formulated using detailed knowledge about individuals, their behavior and the landscape they occupy to simulate population dynamics and community interactions. These models facilitate virtual experimentation that is difficult to perform in the real world.
This helps wildlife agencies since most have to manage wildlife diseases without really knowing how these systems work.
"They don't know everything about transmission, yet have to implement control strategies to mitigate disease threats," said Belsare. "They are held accountable even though they must make decisions with many uncertainties. What they need is a defensible decision-making mechanism. These models provide that framework."
BELSARE'S MODEL FACILITATES DECISION-MAKING
Wildlife agencies use adaptive resource management, meaning they make decisions based on the current best available knowledge, and as that knowledge improves, they add it to the decision-making process to make better decisions.
This is where Belsare comes in. For CWD management, he provides a tool that uses the best available data for regional deer populations to 'run' the simulations. Insights gained from the simulations then inform disease control strategies. Wildlife agencies can thus make defensible decisions for managing diseases like CWD.
"Wildlife agencies are dealing with many stakeholders, like hunters, landowners and animal rights activists, and their objectives are often not aligned," said Belsare. "This approach enables the agencies to responsibly engage stakeholders with competitive agendas and better communicate the complexities of disease management using the models and interactive web applications."
So far, OvCWD model has been used by the Missouri Department of Conservation and the Michigan Department of Natural Resources to evaluate locally relevant harvest strategies for managing CWD in their respective deer populations. OvCWD model was also used to assess CWD surveillance of reindeer populations in Norway.
EVERYTHING'S BIGGER IN TEXAS
Belsare has been working with the Texas Parks and Wildlife Division (TPWD), which has double the problem with CWD because it has two deer populations of concern: deer in high-fenced properties and wild deer in the landscape. Belsare adapted OvCWD to simulate the combination of the high-fenced property deer and wild deer populations to improve the chances of early detection of CWD.
Thanks to a USDA grant this year, Belsare now has funding to focus on CWD surveillance in high-fenced breeding facilities in Texas.
Ani Belsare is pictured with student Kayla Alston outside of the College of Forestry, Wildlife and Environment at Auburn University.
HANDS-ON LEARNING IS BEST
Most people learn best with a hands-on approach. This rings true with Belsare's models.
Through a Safari Club International Foundation grant, Belsare organized sensitization workshops with several wildlife agencies, including the TPWD.
"Until the agency biologists and managers have a direct interaction with the models, they think the models are too complex," said Belsare. " To overcome this concern, I ask everyone, from agency managers to biologists, tol download and run the models on their computers during the workshops."
In this scenario, Belsare serves as a troubleshooter, while users work directly with the model interface. The model starts making sense when the user plays with it; they then ask relevant questions and start thinking about adapting the models for their situations.
"That's when we get collaborative or participatory modeling," said Belsare. "I need agency personnel with mud on their boots — who have real-world experience working with deer populations — to interrogate and use the models."
PROACTIVE PREVENTION
Belsare's goal is clear: he wants to convince agencies to take a proactive approach to get ahead of CWD.
"Do not wait until you first detect CWD in your state — agencies must employ a preemptive strategy to prevent the establishment of CWD in their populations," said Belsare. "This is where the model comes into play. We can design strategies to prevent or delay the establishment of the disease in regional deer populations."
(Written by Amy Burtch)